Motorized Chain Hoist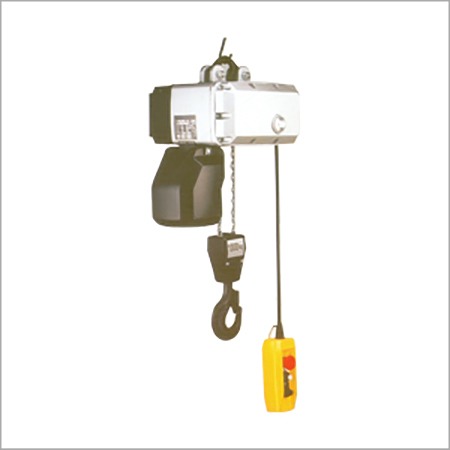 Motorized Chain Hoist
Product Description
Motorized Chain Hoist

Having in-depth experience in this field, we are successfully engaged in manufacturing, exporting and supplying a quality tested array of Motorized Chain Hoist. The provided hoist is manufactured at our premises using premium grade raw materials and cutting edge techniques. Available in various sizes and specifications, the provided hoist is used to give ease in handling different objects. Along with this, our esteemed patrons can easily avail the offered Motorized Chain Hoist at marginal prices from us.
Features:
Excellent working
Long lasting life
Unmatched functionality
Fine finish

Advantages:
In India, these are one of most well known Motorized Chain Hoist which are made using German technology.
Highly sophisticated German technology is used for designing and manufacturing these Motorized Chain Hoist.
Made using high quality die cast aluminum alloy these motorized chain host which are very light in weight.
These also have DC disc brakes which have excellent resistance against rust.
Owing to very less noise level, these motorized chain hosts meet all the DIN standards perfectly.1
Offered in three sizes ranging from 250kgs to 2000kgs.
Quick connectors are fitted for ensuring stable power supply.
Also has motorized trolleys.
Technical Specifications
| | | | | | | | | | | | | | | | |
| --- | --- | --- | --- | --- | --- | --- | --- | --- | --- | --- | --- | --- | --- | --- | --- |
| Model | SWL Kg | No. of Fall | Lifting Speed mm | A | B | B1 | B2 | B3 | B4 | B5 | B6 | B7 | C | H1 | H2 |
| CH1 | 250 Kg | 1-fall | 2.0/8.0 | 36 | 280 | 327 | 165 | 425 | 242 | 140 | 25 | 160 | 367 | 415 | 515 |
| CH1 | 500 Kg | 2-falls | 1.0/4.0 | 36 | 280 | 327 | 165 | 425 | 217 | 140 | 0 | 160 | 436 | 415 | 515 |
| CH2 | 500 Kg | 1-fall | 2.0/8.0 | 36 | 280 | 327 | 165 | 425 | 242 | 140 | 25 | 160 | 400 | 415 | 515 |
| CH2 | 1000 Kg | 2-falls | 1.0/4.0 | 36 | 280 | 327 | 165 | 425 | 217 | 140 | 0 | 160 | 463 | 415 | 515 |
| CH3 | 1000 Kg | 1-fall | 2.5/10.0 | 52 | 310 | 375 | 196 | 502 | 266 | 166 | 24 | 180 | 480 | 512 | 662 |
| CH3 | 2000 Kg | 2-falls | 1.25/5.0 | 52 | 310 | 375 | 196 | 502 | 231 | 166 | 0 | 180 | 570 | 512 | 662 |